10/12/20
Calenberg Paper about elastomeric bearings at the conference "BetonTage" in Ulm. Save the date! Interesting for structural engineers and project managers.
On February 24th, 2021 (14:00h) Calenberg Ingenieure will hold a paper at 65th edition of "BetonTage" in Ulm, one of the largest conferences in Germany that deals with all topics related to concrete. Dipl.-Ing. Nikolas Jüngel introduces into the matter of fixed and sliding bearings. A special focus is on avoiding damages coming out of either wrong dimensioning or wrong mounting of bearings. These damages could result in high costs referring to time and money and can be avoided easily by respecting some essential rules. Simple background in elastomeric bearing topics can lead to a more comfortable day in the office. Be aware that the 15-minute presentation will be held in German.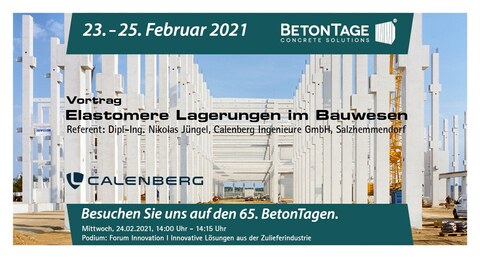 From February 23rd to 25th, every visitor will get a warm welcome at the Calenberg booth No. 128, which is located on the ground floor. Here's the opportunity and platform to discuss all Calenberg product topics with us. Benefit from our knowledges about elastomeric bearings and static calculations including thermal separation as well as dynamic approaches for vibration isolation problems. We are also pleased to present you our new rental options for the famous noise reduction barrier Cisilent®Type E. We look forward to your visit and your interest.