06/08/22
28th International Exhibition for Track Technology
The IAF (28th International Exhibition for Track Technology) took place at the exhibition centre in Münster (Westfalen) from May 31st to June 2nd. Calenberg Ingenieure came up with a booth situated in fair hall "Mitte", altogether six employees from our team advised trade visitors.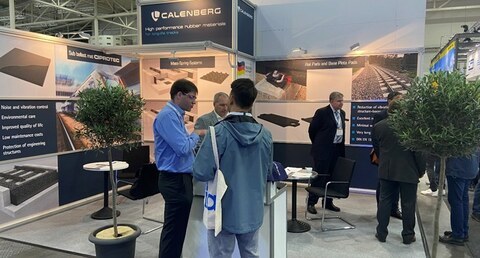 The organizers are happy about many thousend attendants coming from 72 countries from all continents. Besides interesting stands in different halls especially the outdoor area with fascinating large engines attracted the people.
At its booth Calenberg Ingenieure showed beside well known products like track mats, mass-spring-systems, rail pads and base plate pads new product lines, e.g. Ciprotec, an elastomeric mat with laminated fleece provided to reduce forces impacting the ballast.
We are happy about an active exchange of expert knowledge and about interesting discussions at our stand with pontential new clients as well as with engineers and well known leading staff of other enterprises.
We are very pleased with the iaf fair and look forward to your visit at the next iaf in Münster in 2025 (May 20th to 22nd).