02/21/22
Effective sound insulation for chiller units with Cisilent® Type E
Our Irish partner SDG Construction Technology effectively reduced noise pollution from new chiller units with Cisilent® Type E at the site of Lakeland Dairies, a large dairy processing co-operative in Northern Ireland.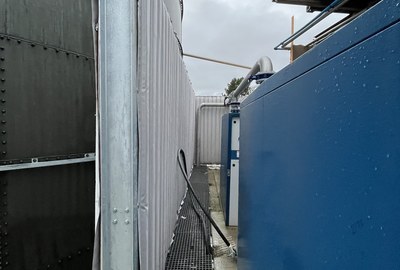 As the chillers require regular maintenance, access to the units was made possible without compromising the airborne sound insulation. A steel frame was designed around the chiller units in collaboration with WD Engineers. Cisilent® was mounted on the steel beams and the Cisilent® sliding doors facilitate access without compromising the sound insulation. With the help of other project participants and an acoustic survey, we succeeded to placed Cisilent® with dimensional accuracy in the cramped conditions. The patented flexible noise barrier Cisilent® Type E achieves a weighted sound reduction index of Rw = 21 dB and reduces airborne noise to the satisfaction of the residents.
The enclosure of the chiller units with partially sliding Cisilent® Type E works as intended and allows easy access to the unit for maintenance. The unique textile structure of Cisilent®, made of high-strength polyester fabric, ensures resistance to water, ozone, UV radiation as well as microorganisms and protects against contamination.