08/24/20
Calenberg completes new project in Cologne
Vibration-isolated installation of a spacious building complex: PANDiON FÜNF FREUNDE. The new city quarter "Ehrenveedel" is being built on the former railway area in Cologne-Ehrenfeld.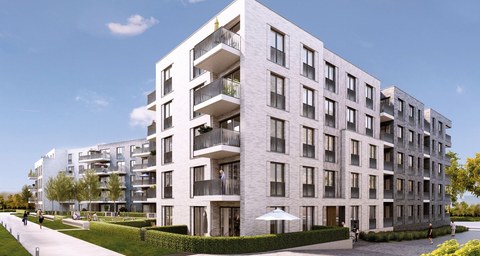 Visualization ©PANDION AG
The property of Pandion AG "PANDiON FÜNF FREUNDE" with a distinctive anthracite-coloured clinker facade has a living space of 6,000 m2 and comprises 129 high-quality condominiums with KfW-55 standard. Completion of the complex is planned for 2021.
In the course of the new construction, the building complex should to be decoupled. The purpose of this measure is to protect the adjacent building areas against vibrations and structure borne noise. This required an elastometic bearing under the foundation (base bearing with Cibatur®), proportional wall insulation mit Civerso® Type A and a console support with Cisador® 1700 and 80.
Read our new
success story
for detailed project description.