02/23/22
Lecture "Bearings in precast concrete construction" - important training module for prospective precast concrete fitters
Currently, the training for precast concrete fitters is taking place at the AWZ Bau in Kreuztal near Siegen. In 4 modules of 45 lessons each, employees from precast concrete factories and/or assembly companies are trained to assemble precast elements on construction sites professionally and without errors in a course that is unique in Germany.
In the course developed by the AWZ in cooperation with the FDB, the focus is on the installation of precast concrete elements. (FDB), the focus is on practical relevance. In Module 3, the presentation "Bearings in precast concrete construction" was given by Calenberg Ingenieure on 7.2.2022; the lecturer was Dipl.-Ing. Nikolas Jüngel.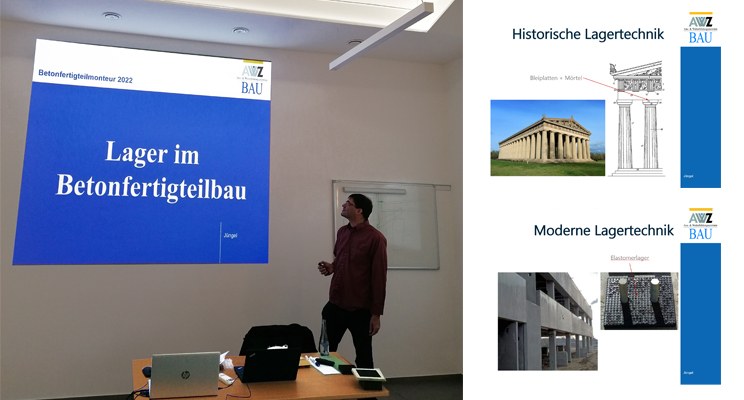 The presentation deals with the different types of elastomeric bearings in structural engineering, which must ensure that the vertical force transmission is correct and that the horizontal movement and torsion angle of the component in contact are absorbed properly. The functionalities of, among others, shear deformation bearings, sliding bearings and sliding sheets are explained, as well as special technical features such as reinforced or profiled elastomeric bearings. One focus is on the constructive assembly of plain bearings, as errors can easily occur here without sufficient knowledge. For example, the sliding plate must be fixed to the upper component, the elastomeric bearing body must be positioned within the stirrup reinforcement and must be designed high enough to prevent a beam from resting on a bracket edge, for example. Also, the constraint-free positional securing by means of a mandrel must be guaranteed by an appropriately dimensioned oblong hole in the sliding plate. Additional information on how, for example, fire protection can be guaranteed or how, when using in-situ concrete, the sliding joint must be protected against concrete flooding, as well as a series of pictures on which elastomeric bearings have been incorrectly installed, round off the presentation.
Here we offer you the possibility to
view the presentation as pdf
version.