06/01/22
New brochures and data sheets
Fresh from the creative forge, our new product brochures in the field of static elastomeric bearings (bearings for structural support) have arrived. The Perforated™ bearing type Z and Ciparall® sliding bearing, which are approved by the building authorities, have a new design and provide you with information e. g. about the products, their areas of application, approvals, information about installation and reference examples.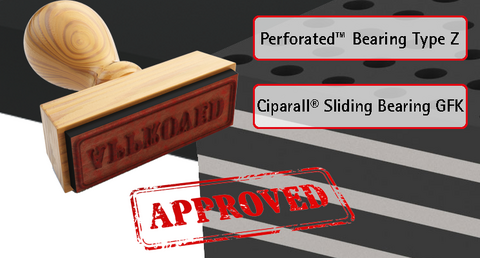 The steel-reinforced Perforated™ bearing Type Z is used in all areas of construction as permanently elastic articulating connection element. It is also used for highly loaded components in the bearing area.
The Ciparall® sliding bearing is used in all areas where a point-floating, low-constraint horizontal displacement and a permanently elastic, articulated connecting element is required. The combined sliding and deformation bearing has an independently acting sliding and deformation layer.
Technical data can be found for the Perforated™ bearing in the data sheet. The data sheet for Ciparall® sliding bearing is still in preparation and will be available shortly.
For questions and designs relating to the products get in touch with our team of experts:
baulager@calenberg-ingenieure.de
.
All information about the
Perforated™ bearing
and the
Ciparall® sliding bearing
is available online.