07/01/21
NEW PROJECT: VIBRATION ISOLATION OF MULTI-FAMILY HOUSES IN BAD VILBEL
The apartment houses need to be decoupled elastically to protect the residents from immissions from vibrations and secondary airborne noise caused by adjacent rail traffic.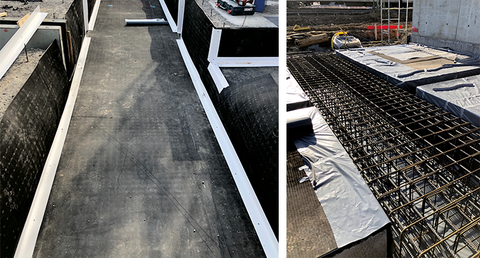 The passing trains carry structure-borne sound waves into the ground and thus into the foundation of the buildings. These are perceived as disturbing by the residents in the form of vibrations and secondary airborne noise. To comply with the legal requirements for secondary airborne sound and vibration immissions and to expose the residents to as few immissions as possible, measures to reduce vibrations were necessary. The elastic support was to maintain a tuning frequency of 7.5 Hz.
Calenberg elastomeric bearings were used as decoupling method. Due to not exactly known static load distribution (load distribution due to ground deformation!), the load-adaptive properties of Cibatur® offered increased safety for compliance with the limit values, especially in these construction projects. The horizontal base bearing under the base slab and the strip foundations was executed with two-layer Cibatur®. The vertical bearing was realised with 40 mm thick Civerso A. Since the buildings do not have a basement, only the strip foundations were vertically clad up to the top edge of the ground.