03/25/21
ELASTIC RAIL PADS FOR PILOT PROJECT IN BERLIN
The main purpose of the pilot project is an efficient renovation project using precision steel base in a railway underpass.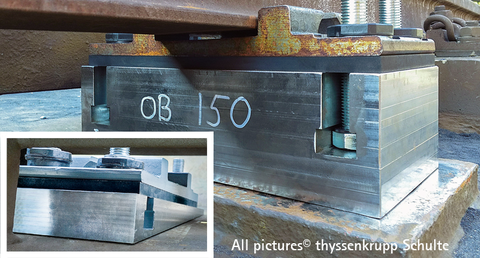 All pictures ©thyssenkrupp Schulte
To be able to refurbish the existing rail support points within a closure period, thyssenkrupp Schulte found a solution with which all dynamic forces resulting from regular railway traffic can be absorbed and dissipated into the substructure. The precision steel base, manufactured as a solid component, was delivered with the pre-assembled rail fastening system components for easy installation. By using highly elastic microcellular EPDM rail pads in optimized permanent way for quick replacement, the transfer of vibrations into the substructure can be reduced efficiently and permanently, thus protecting the track system. The spring stiffness according to the customers' requirements is set via the degree of foaming of the closed-cell pores and can be adjusted to the respective existing track system. This renovation variant was positively evaluated by the customer and classified as practicable for future renovations.