11/20/20
OIL-EX absorption mat - ideal for absorbing oil and lubricants!
To protect the environment and unpaved surfaces the Calenberg OIL-EX absorption mat was developed for road and rail vehicles, especially for tracks made of ballast. OIL-EX is ideal for absorbing spilled fluids and can be used, for example, for maintenance, repair and cleaning work on indoor and outdoor machinery.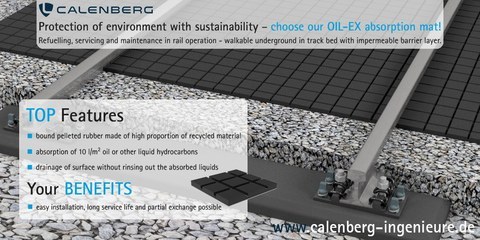 The top properties at a glance:
absorption layer made of bonded rubber granulate
impermeable barrier layer on the underside of the mat prevents contamination of the substrate
OIL-EX absorbs liquid hydrocarbons such as oils, low viscosity lubricants and fuels
absorbed liquids remain in the mat, are neither rinsed out nor squeezed out
the mat is walkable and driving on the mat is possible with restriction
the grooves on the surface facilitate drainage
absorption capacity (approx. 10l/m²) is exhausted when the grooves are completely "closed"
consists of a high proportion of recycled raw material
product with long service life and easy handling
Dimensions of the OIL-EX: 1.48 m wide and max. 50 m long. Customised sizes are available on request.