10/30/20
Noise control - Relaxed piano playing with Cipremont® piano coasters
Playing the piano in an apartment building will be often evaluated subjectively. But how can you pursue your hobby or profession without upsetting the neighbours?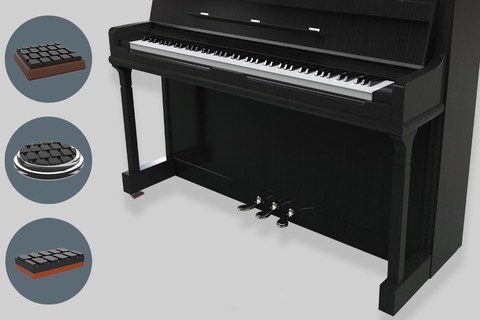 There are possibilities! Calenberg Ingenieure offers you a cost-effective and easy to use solution. Our Cipremont® piano coasters reduce the disturbing structure-borne sound transmissions, which are directly transmitted from the piano into i.e. the floor, ceiling, walls. A structure-borne sound insulation of approx. 27 dB can be achieved.
Cipremont® piano coasters are available in three versions - lamella plate Ø 75 mm, top plate 70 x 70 mm, lamella foott 63 x 35 mm - and are suitable for upright, grand and upright electric pianos. Depending on the type of piano, they are placed under the piano roller feet in such a way that the rollers press wedge-shaped into the lamella furrows or they are attached under the piano side walls with a contact-adhesive bond. In both cases, this ensures that the musical instrument is elastically adjusted and stabilized in its position.
Cipremont® piano coasters are made of high-quality elastomer materials and plastic plates. They are suitable for almost all floor types and allow easy movement. If the standard dimensions do not suit your piano - no problem, we can also offer customized solutions.
For more info, please feel free to contact us +49 5153 – 9400-0 or visit our website for
more information
.