09/11/20
Successful audit - Calenberg again classified as Q1-supplier for German Railways DB AG
DB AG's supplier management has conducted its annual Q-classification with Calenberg. The DB auditor has appreciated the high-quality standard of the elastic rail pads and base plate pads as well as the advanced quality management system at the Losheim production site. After successful auditing, Calenberg Q1-supplier status has been reconfirmed.

Q1 is the highest quality classification of DB AG and means that for individual deliveries no additional approvals are necessary anymore.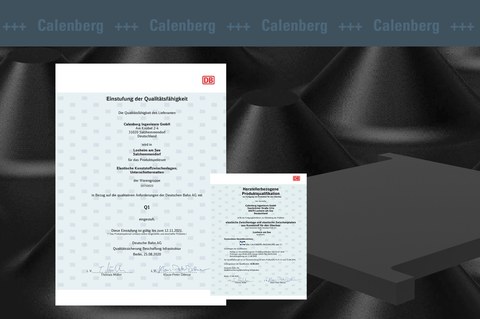 Calenberg HPQ certificate extended by Deutsche Bahn
The Deutsche Bahn HPQ certificate for "Manufacturer-related product qualification" (HPQ) was awarded to Calenberg once more. After a successful audit, DB extended the HPQ certificate on elastic rail pads and base plate pads for rail fastenings made at Losheim by 3 more years. Thus, DB shows its lasting high confidence in the manufacturing skills and process reliability of Calenberg.
Certificate download