12/14/20
Vibration isolation of three international hotels with underground car park in the immediate vicinity of Düsseldorf Central Station with Calenberg Cibatur®
The 17,000 m2 building plot, which borders directly on the station site on one side, will accommodate three international hotel chains. These buildings are to be perceived by rail travellers as a new calling card on their arrival in Düsseldorf.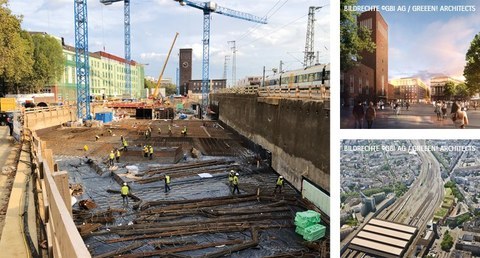 Accordingly,
greeen! Architects
created a high-quality and representative architecture. The completion of the complex is planned for 2021. In order to protect the buildings against vibrations and secondary airborne noise caused by adjacent rail traffic, a decoupling was necessary. The vibration isolation of the entire building complex was carried out with only one type of bearing, Cibatur®. Cibatur® is laid horizontally under the floor slab on the blinding layer in one and two layers over the entire surface. In addition, the basement walls were also covered vertically with Cibatur® over the entire area.
The protective measure was implemented with natural frequencies of 8 Hz resp. 11 Hz. Cibatur® combines the advantages of horizontal and vertical bearing with almost constant dynamic properties respectively natural frequencies. It is easy on-site installed without complicated installation plans.