11/12/20
Use of Compact Core Bearings for construction project in Geeste
Calenberg Compact Core Bearing was used for a two-story building in Geeste. During the installation procedure, one of our employees has supported the project team on site.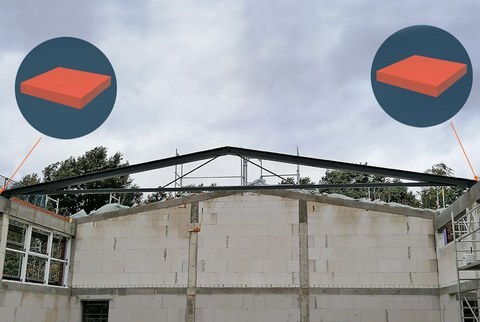 In order to prevent thermal bridges in steel constructions, the Compact Core Bearing acts as a thermal separation layer for elements protruding from the thermal shell, in this case canopies.
First, energy losses are minimized by the separating layer. Second, the Compact Core Bearing minimizes cold bridges and thus the problem of condensation water. The bearings were mounted on approximately 15 m long steel girders at the ground, followed by the short girders to which the canopies are attached.
With a mobile crane, the girders then were placed on the ring beam at a height of six meters and fixed. Thanks to the energetic commitment of the three-man construction team and good communication with the crane operator, the process of unloading the girders from the heavy load transport to positioning and securing them at roof level was completed within a few hours, despite the adverse weather conditions with gusts of wind and rain periods.
Calenberg Ingenieure thanks BSH-Stahlbau from Bad Bentheim for the good cooperation.