05/29/20
Track bed mat USM 1000 W laid in the first construction phase for project "Wiesestraße" of GVB Gera!
Light rail programme Gera - Wiesestraße | Section: Heinrichsbrücke to Arminiusstraße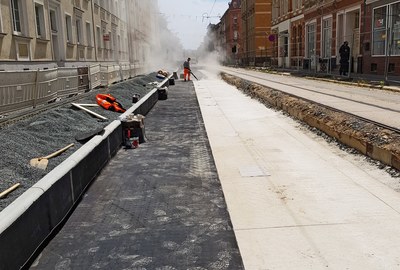 At present, the project "Wiesestraße" with the section "Heinrichsbrücke to Arminiusstraße" is being carried out as part of the Gera light rail programme. In addition to a basic new track construction, a light mass-spring system is built with the rail installed on the top of a concrete supporting slab. To reduce the transmission of structure-borne-sound or vibrations caused by the rail traffic the high elastic track bed mat USM 1000 W was placed between concrete slab and floor. This type of mat can also be used as under ballast mat for ballasted tracks.
The aim of this construction method is a reliable and low-maintenance track system, as hardly any major repairs to the track are possible due to a short cycle sequence of the tram traffic. Due to the conical studs made of natural rubber, which as a spring has an optimum ratio of dynamic to static stiffness, a continious drainage is provided below the track bed mat, thus below the entire track.
In May 2020, work began with laying our track mat USM 1000 W as floor mat and the Civerso Type A as side mat. The work was completed in less time than originally planned for the laying. In this section an area of approx. 1500 m² was covered with the track mat USM 1000 W. The special challenge during the laying work were the numerous inlets within the carriageway and at the edge of the carriageway. Thanks to its flexibility this was efficiently solved by laying the track bed mat USM 1000 W lengthwise.